17th June 2013
TO: ALL MEMBERS - DEVON & SOMERSET FIRE BRIGADES UNION
                                                                                                           
Dear Brother / Sister
FIRE AUTHORITY TO MEET ON 10TH JULY TO DECIDE ON CUTS PROPOSALS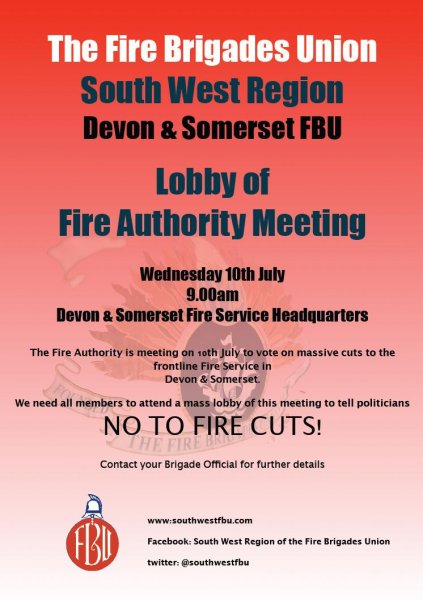 The Devon & Somerset Fire Authority is scheduled to meet on Wednesday the 10th July to make a formal decision regarding the proposed cuts in frontline fire cover outlined within the Service draft plan 2013/14 to 2014/15.
This meeting follows several months of consultation during which the FBU ran a highly successful campaign of opposition. Our campaign has achieved unprecedented levels of public and political support with over 25,000 members of the public signing petitions against the cuts. At a local level FBU branches have achieved incredible support from Town Councils, local Councillors, Members of Parliament and, not least, ordinary members of our communities whose reaction to the proposed cuts has overwhelmingly been one of outrage.
Since publishing our formal written response in April, the FBU has kept up a continuous campaign of political lobbying, at every level, to get our points across. Following the local elections in May, we made direct contact with every new member of the Fire Authority and made sure that they had a copy of our submission and were in no doubt of our opposition to these cuts. Now, with the Fire Authority due to make a decision on the 10th July, we have once again written to every single member of the Authority calling on them to reject these damaging proposals and think again.
The Fire Authority should be left in no doubt that these proposals do not have the support of either the professionals who run the Service or the public who receive it. The FBU will be lobbying the Fire Authority on the 10th July and I am calling on every single available FBU member to join us.
Make sure you have your say - Get to the Fire Authority meeting and say NO Cuts to the frontline Fire & Rescue Service!   
Best wishes.
Yours fraternally,
TREVOR FRENCH                                                                      
BRIGADE SECRETARY