It is the right decision for you, your family and the whole Fire and Rescue Service.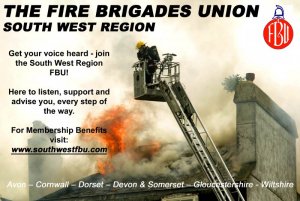 Why should I join the FBU?
Joining the FBU means you have support from experienced and highly effective trade union professionals both in the South West Region and nationally.
We are committed to supporting and advising you, every step of the way.
By becoming a member, we can help you through stressful times, support your career, improve work conditions and fight for your rights.
We are your voice – we tell the politicians, press and public about the true value of your work.
When you join the FBU, you benefit from:
Individual Representation – as a member you can get representation at disciplines, grievances and other procedures.
Protection of your conditions of service – on your behalf, we negotiate for national pay and conditions, lobby politicians, and provide comprehensive responses to consultations.
Protection for you – you can access to highly effective legal services for free.
Education and professional development – you are supported throughout your career.
Access to financial support – you and your family can get help through our accident, injury and death benefit insurance scheme.
Getting your voice heard – we fight hard for the Fire and Rescue Service through high profile campaigns.
Visit the FBU benefits for further information.
Who does the FBU represent?
Whatever your rank in the Fire and Rescue Service, we encourage you to join the FBU. We represent over 85% of the uniformed staff of the UK Service. Our members are:
•    Wholetime firefighters
•    Firefighters working the Retained Duty System
•    Officers
•    Emergency Fire Control Staff
How do I join the FBU?
Simply follow this link and join online. Join the Fire Brigades Union | Fire Brigades Union (fbu.org.uk)