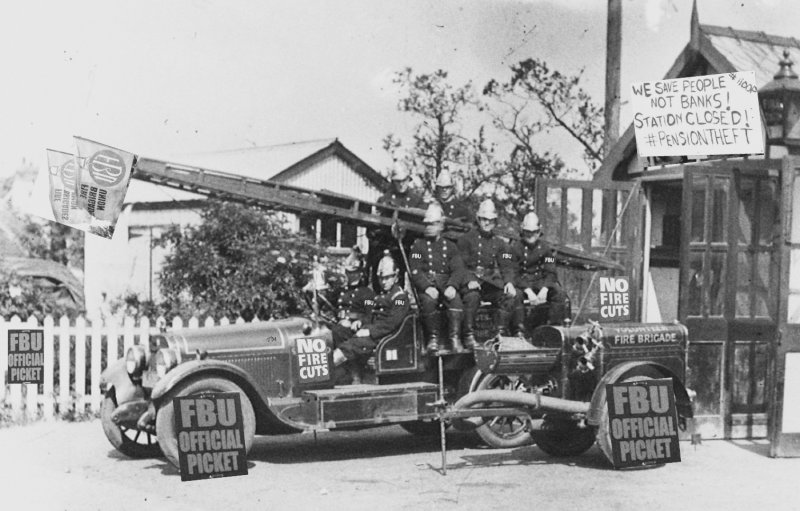 RESOURCES FOR FBU OFFICIALS TO CHALLENGE "DAY CREW PLUS" TYPE DUTY SYSTEMS:
THE FBU CAMPAIGN AGAINST "DAY CREW PLUS" TYPE DUTY SYSTEMS
The type of Duty Systems worked by Firefighters form an important part of their employment as they are designed to deliver effective fire cover to the public as well as provide organised and adequate hours for training, community safety and all the other forms of duties that Firefighters undertake. There are several different types of duty systems in the Fire & Rescue Service, all of which have been developed to properly organise the many different types of work that individuals in the service undertake. Duty systems form an important part of a Firefighters contract as they have to ensure that they meet all the legislative requirements required under employment law, working time directives, health & safety laws and other areas developed over times to protect workers in a frontline emergency service.
In order to meet these requirements, and to ensure consistency and fairness, the duty systems for the UK Fire & Rescue Service have been negotiated and agreed at national level by Employers representatives and the Fire Brigades Union. This has been done at the National Joint Council for Fire & Rescue Services (the NJC). These agreements are contained within the Grey Book which, in turn, forms a key part of a Firefighters contract of employment.
If a Fire & Rescue Service wants to introduce a new and different duty system it must meet certain requirements. These requirements are set out in the Grey Book and are as follows:
Basic working hours should average forty-two per week (inclusive of three 
hours of meal breaks in every twenty-four hours) for full-time employees. 
Hours of duty should be pro-rata for part-time employees.
 
There should be at least two periods of twenty-four hours free from duty 
each week.
 
It should comply with relevant United Kingdom and European law, including 
the Working Time Regulations 1998, and Health, Safety and Welfare at Work 
legislation.
 
It should have regard to the special circumstances of individual employees 
and be family friendly.
These principals are vital as they protect pay rates, working hours and the safety of Firefighters and the public.
Despite the flexibility and protection offered by nationally agreed duty systems some Fire Services have been trying to introduce a "local" duty system which would take our service back in time to the Victorian age. The system is usually called "Day Crew Plus" and is based on deceiving the public into believing that the same level of service and protection can be delivered with half the number of Firefighters.
In brief, the whole basis of "Day Crew Plus" is to:
Cut the number of firefighters on a station by half and make those who are left work twice as long for much less pay.
The basic premise of such a system is this:
    .    Cutting the number of firefighters on a station by at least half (on a WT Station this means getting rid of 2 watches entirely);
    .    Making those who are left work double the hours; usually between 84-96 continuous hours on duty a week;
    .    Giving a minimal allowance of around 20% (which actually takes the hourly rate of pay for a Firefighter to just slightly above the minimum wage!);
The FBU is of the view that such systems are outdated and draconian. The sole aim is to make savings at the expense of jobs and Firefighters working lives.The consequences of this system would see Firefighters having to work between 84-96 hours a week for a combined hourly rate of pay far below that of the nationally agreed rate for a competent Firefighter.
Employers use budget constraints as an excuse for introducing these systems, but the fact is that such systems would not make the claimed savings. If introduced, these systems would have a massive, and detrimental impact on our Fire Services. They would remove resilience from the rest of the service, they would massively reduce Firefighter numbers, they would put surrounding stations under greater strain and they would enslave Firefighters to a Victorian seeking week with no regard to staff and their families.
The FBU in the South West has mounted campaigns of opposition whenever this system has been raised in our Region we have produced bulletins on the issue, lobbied politicians at every level, and raised our concerns in the media.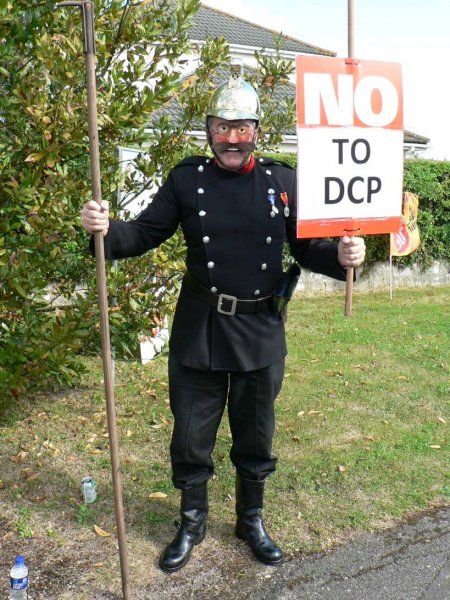 Some bosses point out that this system is up and running in places like Lancashire and Merseyside. This s true but what they are less keen to point out is that in South Wales, which is far similar in make up to the South West, the plans were kicked out as unworkable! In any event the systems in Lancashire and Merseyside were put in place before the FBU decided their fundamental policy at the Union's Annual Conference in 2011. After a full debate the Union voted on and agreed the attached national Union policy.
Employers use budget constraints as an excuse for introducing these systems, but the fact is that such systems would not make the claimed savings. If introduced, these systems would have a massive, and detrimental impact on our Fire Services. They would remove resilience from the rest of the service, they would massively reduce Firefighter numbers, they would put surrounding stations under greater strain and they would enslave Firefighters to a Victoran working week with no regard to them or their families.
Some employers are keen to try and undermine the Union by approaching Firefighters individually and asking them to "volunteer" for this system. On at least one occasion Firefighters were even written to, at home, and asked to sign an "expression of interest" in carrying out this system. Members complained to the Union that they felt coerced and even bullied into signing these letters, with threats of compulsory redundancy if they didn't. 
The FBU believes that this is a crude attempt to try and get Firefighters to sell out their colleagues jobs by offering second rate financial bribes and applying pressure to accept them.
However employers dress these systems up the truth is that they are a crude attempt to massively cut our Service whilst pretending to the public that Emergency cover remains unaltered.
The effects of these systems are:
Impact of job losses
 
Half the workforce gone, never to return;
Far fewer Crew and Watch Managers. Around 1 WM and 2 CM per station, as opposed to the normal 4 WM and 4 CM now, so chances of promotion drastically reduced;
Resilience in the service hugely reduced;
Fewer firefighters during protracted incidents, particularly in smaller FRS;
Reduction in Fire Cover as neighboring Stations have to provide cover across different areas when Firefighters reach exhaustion point.
Impact on Pay
Firefighters may be offered a percentage increase in salary but anything less than an increase of 100% means that the hourly rate for the job decreases massively.
For a Firefighter this means the hourly rate drops to around the minimum wage
Destroying national pay rates and severly hampering future pay negotiations and potential rises
Impact on Family
Firefighters would spend up to 84-96 hours at a time on the Fire station. The impact on family life will be devastating. If there is any improvement in facilities they would, at best, be basic - think cheap hotel.
They would expect you to work a 12 hour shift then carry out standby duties at the station for a further 12 hours.
In effect you would be imprisoned at the workplace. If in the future you have loans etc based on the extra money then you will be unable to transfer, no matter how bad it gets.
Such systems are not fit for purpose let alone for the 21st Century Fire & Rescue Service. They are:

Outside the Grey Book;
Outside the Working Time Directive;
Outside National Pay Rates;
These plans have been raised in Brigades throughout our Region and the FBU is forcibly challenging this attempt to drag our service into the past. We will not stand back and see our jobs destroyed, our family lives wrecked and the working hours & pay of our Service torn apart. We will fight this in any FRS where the proposals are put forward and we need every member to play their part.
These are some myth busters about the DCP system. If you want any more information then please contact your local Official. The FBU will oppose these shift systems where they appear but we need your help to do so. If this issue does come up where you work then we ask that you:
Immediately inform your local FBU Official
Do not sign expression of interest forms
Do express your opposition during any watch visits by senior managers

Write to your elected councillors to express your opposition
Attend Branch meetings to put forward your views on this important matter.
Tools and resources for Officials when campaigning against "Day Crew Plus" and "Close Proximity Crewing" duty systems.
As the campaign against these disgraceful duty systems has developed, more and more information has become available which highlights why they are so unnaceptable. To assist FBU officials campaigning against "Day Crew Plus" or "Close Proximity Crewing" we have tried to put as much information together, and in one place, as possible. 
1. FBU POLICY: The starting point for FBU officials should be our policy, which was agreed by the annual parliament of the FBU - Annual Conference. The Policy regarding Day Crew Plus was set out and agreed at the 2011 FBU Annual Conference and is available here.
2. FBU ALL MEMBERS CIRCULAR: Many of the arguments against DCP were made in an "All Members" circular, sent to all FBU workplaces, by the FBU Assistant General Secretary Andy Dark. This sets out why the Union is so opposed to DCP and what members should do if they are confronted with it. The circular is available here.
3. HSE OPINION: In September 2015, the Health & Safety Executive (HSE) wrote to the Chief Fire Officers Association, and copied in several Fire Service bofies - including the FBU, setting out their opinion regarding CPC and DCP type duty systems. The HSE stated categorically that these duty systems are in breach of Regulation 6 of the Working Time Regulations. Although the HSE said that they would not take direct enforcement action at this time, it should be noted that they informed the Chief Fire Officer of Gloucestershire that action would be taken should an accident/injury etc occur as a result of these duty systems. The HSE also informed the CFOA and the FBU that they "need to be involved in finding a sustainable solution". The letter is available here.
4. EMPLOYMENT TRIBUNAL JUDGEMENT: In January 2016 the outcome of an employment tribunal dealing with issues of detriment in relation to the introduction of the close proximity crewing duty system in South Yorkshire was published. This was a very important judgement, which the FBU won, and which highlighted the unsustainability of DCP/CPC duty systems. 
The finding of an employment tribunal do not have the status of setting precedent, but can be cited and do set a bar for cases which deal with similar issues.
Below is a summary of the key points from the judgment which has been provided by Thompsons:-
Para 3.  That the Grey Book is a collective agreement within the meaning of Reg 23 of the Working Time Regulations 1998;
Para 3.  The tribunal considers the 2-2-4 system to be fully compliant with WTR;
Para 6.  That CPC entails a breach of Regs 6 and 10.3;
Paras 30/48.  That there was no alternative provision for working at either station other than on CPC – in contrast to the Llanelli case – so that any firefighter not volunteering for CPC would be liable to displacement;
Para 40.  The HSE decision not to take action is questioned;
Para 44.  Under CPC 96 consecutive hours all constitutes working time, which necessarily does not allow for the required rest period;
Para 49.  The fact that CPC was undertaken by volunteers does not mean that it was not imposed by SYFRS;
Para 50.  Not applying to work CPC constituted a positive act and not an omission;
Para 51.  SYFRS acted knowing that the collective negotiating process was being circumvented;
Para 52.   SYFRS acted in the knowledge that, absent any authorised modification or   exclusion of their application, CPC breached the WTR;
Para 55.  Those who did not volunteer were understood to be actively refusing or proposing to refuse to work CPC;
Para 59.  The CFO accepted in evidence that CPC breached the 48 hour week and requirement for 11 hour daily rest period;
Para 83.  That compulsory displacement is a detriment.
The full ET judgement is available here.
5. MEDIA: There have been numerous media reports on DCP/CPC. Here are two: One from the BBC South West - and one from the FBU channel at Annual Conference.
We hope all these tools will be useful for Officials when campaigning agianst these appalling duty systems.