Tam McFarlane
 National Officer
Contact: tam.mcfarlane@fbu.org.uk   Mob: 07813 170279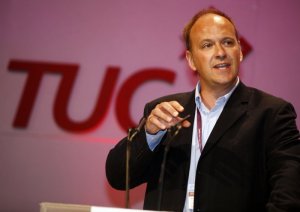 Tam was selected to take up a Temp National Officer role in 2018, this situation/role will be reviewed by FBU conference this year, an Tam was finally appointed to this role in 2019.
Tam has carried out some fantastic work in relation to the FBU centenary and the wide ranging events that surrounded it in this role, along with many ongoing issues to support members at a national level.
Previously he was first elected as Executive Council Member in 2006 and subsequently re-elected with increased numbers of nominations in both 2010 and 2014, Tam McFarlane is the senior Official for the South West Region of the Fire Brigades Union. A Firefighter in Somerset for 20 years, Tam has risen through the FBU ranks, serving as an Official at every level in the Union. He has served FBU Members as a Branch Official, a Health & Safety Official and Brigade Secretary for Somerset before progressing to regional level. His first regional position was as the South West Regional Secretary before being elected as Executive Council Member.
Tam headed up a high profile and very effective regional Union team, which is highly regarded across the region's trade union movement and has a hard-earned reputation for:
    •    Effective campaigning
    •    Fighting cuts
    •    Delivering trained Officials to serve FBU members in every Brigade
Under Tam's leadership, the team has also won Trades Union Congress (TUC) awards for its high profile campaigning work and has been recognised as the main innovators of social media and modern communication within the FBU UK Regions. In order to improve communications with members, Tam introduced an innovative series of 'FBU video updates' which is now a regular feature at a national level. The updates, in which Tam puts questions to the General Secretary and other senior FBU officials, have proved incredibly popular with members and has won a communication award from the TUC for the number of views they attract and the direct manner of getting important information out.   
Tam has extensive experience across the trade union and working class movement.  Not only has he served on the Executive of the South West TUC, but he has also represented, and spoken on behalf of, the FBU at the national TUC for seven consecutive years. Tam has spoken on platforms alongside Tony Benn, Bob Crow, Brendan Barber and Ken Loach and has campaigned for firefighters & the Fire and Rescue Service at every political level, including directly to the UK Cabinet Office and the European Parliament.
Having served his full career in the South West,Tam has developed a comprehensive knowledge and appreciation of every duty system served by all FBU members. Also, his technical knowledge of Fire Service issues has seen him appointed to several national FBU and Fire Service Boards and committees.
He plans to continue building the reputation and effectiveness of the South West Region FBU by continuing to deliver a strong and united Union, which serves individual members and fights for the collective.
Trevor French
 EC Member
Contact: trevor.french@fbu.org.uk   Mob: 07967 018757
After Tam was appointed to the National Officer role, Trevor was elected as the SW FBU EC Member.
Trevor transferred to Devon Fire & Rescue Service in 2001 after spending 7 years in Surrey FRS. He enjoyed the time spent working on fire stations in both Surrey and Devon and this has helped his understanding of both urban and rural brigades.
Union wise, Trevor was a Branch Rep in Surrey and continued his involvement with the Union following his transfer.  He ended up as Devon's Brigade Secretary in  2005 (not sure how that happened!!) and following the combination between Devon and Somerset FRS's in 2008, was elected as the new Brigade Secretary which was and still is an honour.
Trevor's plan for the next four years is to fight against the cuts we are all facing, keep the Grey Book alive and continue the fight over pay and pensions.
Trevor is a firefighter stationed at Barnstaple fire station.
Guy Herrington
Regional Secretary                                                                                                                                                                               
Contact: Guy.Herrington@fbu.org.uk   Mob: 07870 250297


Guy was elected Regional Secretary following a short stint as Regional Chair after service as the Brigade chair in Cornwall. Guy is a Station Manager in Cornwall FRS.
Scott Young Regional Chair
Contact scott.young@fbu.org.uk Mob: 07828 528266. Scott was elected to the role of Regional Chair in March 2020 after serving as Brigade chair in Devon and Somerset for many years. Scott of a firefighter serving at Barnstaple fire station.
Val Hampshire
Regional Treasurer
Contact: val.hampshire@fbu.org.uk Mob 07970495231


Having worked for the fire service for over two decades, Val is now a Station Manager in Emergency Fire Control in Dorset and Wiltshire as well as South West FBU Regional Treasurer.
Throughout her time with the service, she has held various positions within the FBU including Branch Representative for Control, Brigade Vice Chair and Regional Control Staff Committee Member.
As Regional Treasurer she works with other Regional Officials to assist FBU members. Val also has the responsibility for the budgets and works closely with the Regional Administrator to ensure the smooth running of the region.