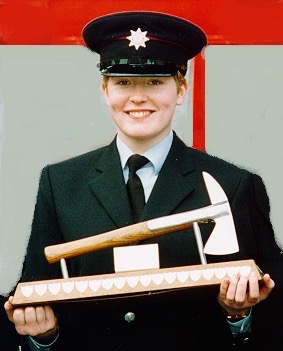 On Sunday 4 February 1996, Fire Crews from Avon Fire Brigade, as the Service was known at the time, were called to reports of a serious fire at Leos supermarket in the Staple Hill area of Bristol. Tragically, Firefighter Fleur Lombard, who was serving at Speedwell Fire Station at the time, was inside the building when she lost her life tackling the inferno.
Fleur was posthumously awarded the Queen's Gallantry Medal and Chief Fire Officer's Commendation in recognition of her bravery. Two of her colleagues who were with her that day were also awarded the George Medal and the Queen's Commendation for Bravery.
After Fleur's tragic death a trust fund was set up as a fitting tribute to her bravery, courage, dedication and professionalism.  The Fleur Lombard Bursary aims to keep Fleur's values alive, helping others progress their careers in the fire and rescue service. The bursary, which is open to all fire and rescue service staff across the UK, gives the opportunity to apply for a scholarship to fund study into firefighting and learning from other services across the world. 
We want to encourage members to apply for the bursary. It can really broaden your horizens and could give you a once in a lifetime opportunity to improve your understanding of fire service issues. To apply for The Fleur Lombard Bursary you will need to complete an application form, and refer to a checklist to ensure that you meet the necessary criteria
For more details of the Fleur Lombard Bursary - including how to apply - please go to www.avonfire.gov.uk 
"She was an inspiration to us all"