Wednesday, February 25, 2015 - 12:00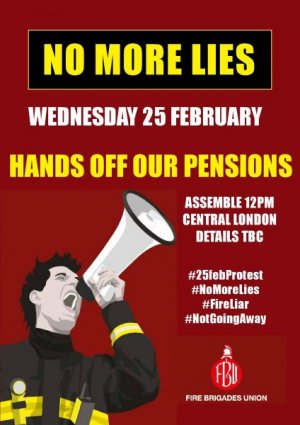 What: Protest over sham firefighter pension 'guarantee'
Where: Central London
When: Wednesday 25 February 2015
The FBU confirmed today firefighters will protest over a false 'guarantee' given to firefighters in a House of Commons debate on firefighters' pensions by Westminster fire minister Penny Mordaunt.
The minister told MP's if a firefighter fails a fitness test through no fault of their own, and do not qualify for ill health retirement, they will get a redeployed role or a full, unreduced pension.
However after the FBU wrote to all fire authorities asking them if they intended to implement the Parliamentary guarantee those who responded confirmed that after taking legal advice that they would not.
The protest will take place from midday on Wednesday 25 February 2015 in Central London.