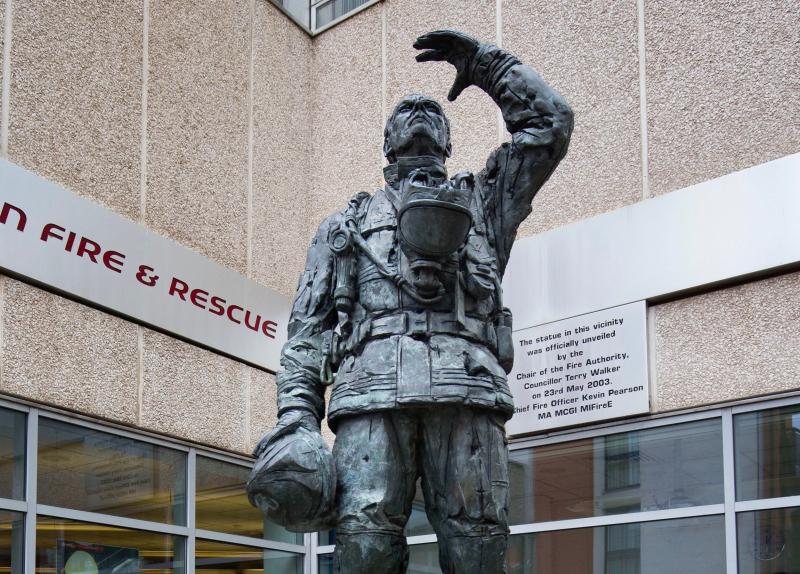 Firefighters in Avon have thanked the public after a controversial decision to move a memorial to fallen colleagues was reversed. Politicians from Avon Fire & Rescue authority had previously passed plans to dig up a memorial to fallen firefighters in Bristol City Centre and move it to a remote location near Portishead. The memorial statue of a firefighter gazing up at the sky is currently located next to Temple Back fire station in the city centre. Under the controversial plans, the beloved memorial would have been dug up and shifted to a new 'Police and Fire' headquarters site which is difficult to access and where hardly anyone would have been able to see it. However, at a meeting on Friday 13th October, the Fire Authority scrapped their plans after the Fire Brigades Union (FBU) presented a petition signed by over 3,000 supporters who demanded that the memorial stay in Bristol City Centre.
The statue will now be moved only a few yards and placed outside the new Temple Back Fire Station.
Gary Spindler, brigade secretary of the Fire Brigades Union in Avon, said: "The statue is an important memorial for remembering firefighters who have sacrificed their lives in the line of duty. To have moved it out to a remote location in Portishead would have deprived the public of this important memorial and frankly would have been an insult to our fallen colleagues. It's great news that the statue is now going to stay at its proper home at Temple Back Fire Station and I want to thank the public who supported us in our campaign and the Fire Authority for listening. Our campaign, which included a petition signed by over 3,000 people, led to local politicians acting positively to the overwhelming public view on what has turned out to be a really emotive issue. I would also like to thank the authority for proposing to investigate the possibility of having an additional memorial to Firefighters of some kind at the Portishead HQ site, something the FBU would of course fully support and welcome". 
Tam McFarlane, the senior FBU rep in the South West region added "This is an important victory for the public, firefighters and common sense. Every year on Firefighters' Memorial Day (May 4) firefighters and other fire and rescue service personnel congregate around the statue as part of this high profile event. This is when the value of its location is really appreciated by the public as well as firefighters. If the statue had been moved, this type of memorial event would have been virtually impossible to hold. The support that the public has given us in our campaign is hugely appreciated by all of us in the Fire Brigades Union and it is fantastic news that the memorial will now remain in its proper city centre location." 
Contact Gary Spindler:mob 07702 285514 - email gary.spindler@fbu.org.uk