FIRE BRIGADES UNION
Thursday 4 July 2013
Thousands across Devon and Somerset say 'no' to fire cuts!
Local fears over public safety were highlighted today when total count for a petition over proposed changes to fire and rescue services in Devon and Somerset were released.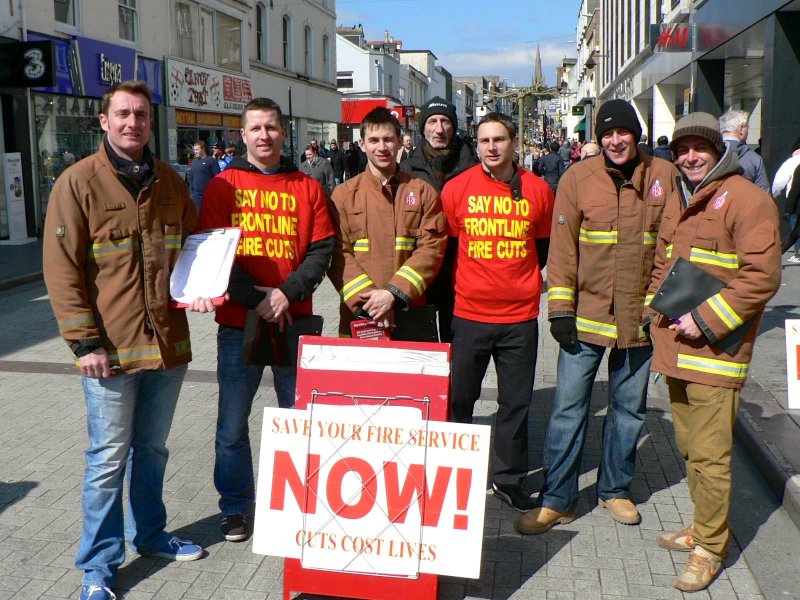 27,887 have registered their objections to the changes proposed to services across the two counties, including on a petition organised by the Fire Brigades Union and distributed by The Ilfracombe Independent, The North Devon Journal, and The Herald Express.
FBU Secretary for Devon & Somerset, Trevor French, said: "The people of Devon and Somerset couldn't have rejected these changes any more clearly.
"There is a universal recognition that these changes will cost lives, plain and simple.
"Firefighters, the fire and rescue service and local people need to work together to make sure that politicians can't cut corners with fire services and play politics with local lives. We must stop these dangerous changes happening."
When including numbers from the petition, respondents to specific questions on local changes also showed overwhelming opposition among local people:
·         99% disagree with a change to crewing at Torquay station (18,883 out of 18,946)
·         96% disagree with changes proposed at Plymouth (1,990 votes out of 2,072)
·         99% disagree with changes proposed at Taunton (4,960 out of 5,027)
·         93% disagree with changes proposed at Ilfracombe (1,103 out of 1,190)
Last month Chancellor George Osborne announced a 7.5% reduction in national funding for fire services, and the Department for Communities and Local Government said last month that final details would be published in autumn.
However, earlier this week Devon and Somerset Chief Fire Officer Lee Howell took the unprecedented step of pre-empting final details by announcing his own cuts worth £2.5million, including 40 voluntary redundancies, on top of existing plans to cut £5.5 million and 149 frontline firefighter jobs.
Howell also refused to rule out compulsory redundancies in the future.
The union has organised a lobby for local people to voice their concerns outside a meeting of the Devon and Somerset Fire and Rescue Authority at its headquarters in Clyst St George, Exeter at 9am on Wednesday 10 July (meeting starts at 10am).
Ends
Notes
1.       Spokespeople available
2.       The Devon and Somerset  Fire and Rescue Service's own, smaller 'consultation' on changes also  demonstrated opposition:
a.       49% (87) disagreed with changes to crewing of the second Taunton whole-time fire engine
b.      42% (69) disagreed with changed to crewing of the second Torquay whole-time fire engine
c.       65.89% (114) of respondents disagreed with closing fire stations
d.      64.94% (113) of respondents disagreed with removing fire engines
e.      70.52% (122) disagreed with compulsory redundancies
f.        69.23% (117) agreed with the principle of matching resources to risk
3.       Totals of petition respondents collected by:
a.       The FBU: 900
b.      The Devon and Somerset Fire and Rescue Authority ePetition facility: 1
c.       Plymouth FBU: 1,926
d.      The Ilfracombe Independent petition: 521
e.      The North Devon Journal (newspaper): 88
f.        North Devon Journal (online): 494
g.       Taunton FBU: 4,570
h.       Firefighter (HM Government e-petition): 304
i.        Torquay FBU: 18,292
j.        Herald Express (newspaper): 319
k.       Herald Express (online): 272
| | |
| --- | --- |
| | |
| | |
| |   |